Oxfordshire homes flooded due to heavy rain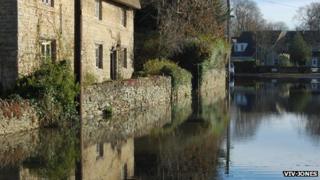 Several homes have flooded in Oxfordshire due to heavy rain at the weekend.
Oxfordshire County Council said five properties were affected in Dog Close in Adderbury, near Banbury.
Fire crews also attended about 25 flood related incidents on Saturday and Sunday, including to homes at Swerford, Bladon and Fewcott.
There are a number of flood warnings in place for the South East, including the River Thame at Dorchester.
About 4,500 sandbags have been delivered to properties at risk of flooding in Oxfordshire by the county council - with 200 being sent to homes in Dorchester.
A third of the flood related incidents Oxfordshire Fire and Rescue attended involved fallen trees or branches.
Bablock Hythe Caravan Park is now partially under water in areas where the holiday homes are based, but flooding has not yet affected the residential areas.
The owners said it was "nothing drastic".
The Environment Agency warned on Sunday the site could become flooded due to rising water levels on the River Thames between Newbridge and Kings Lock.
Oxfordshire County Council has also warned of surface water on the A44 at Sandy Lane, Yarnton and on the A40 near Thornhill Park and Ride.
More than 150 flood warnings are in place across England.