Oxfordshire flood warning issued to caravan park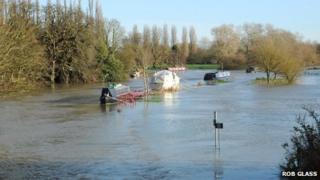 A caravan park in Oxfordshire could be flooded by the nearby River Thames as heavy rain continues, the Environment Agency (EA) has warned.
A weather warning is in place along the river between Newbridge and Kings Lock.
Places under threat of flooding include Bablock Hythe Caravan park, Northmoor, Stanton Harcourt, Eynsham, Swinford and Yarnton.
Oxfordshire County Council said it was called to 35 weather-related incidents on Saturday night and early on Sunday.
A spokesman said there was a lot of surface water on the A44 at Sandy Lane, Yarnton, and warned drivers not to drive too quickly through the flood water.
A warning is also in place on the River Cherwell, from Lower Heyford down to Cherwell Bridge.
Sporting fixtures across the county have been affected by the weather, including Saturday's FA Trophy tie between Oxford City and Bishop's Stortford.
The game was postponed due to a waterlogged pitch.
On Thursday night, 33 residents from a nursing home in Shipton-under-Wychwood were forced to leave after concerns about rising water levels in a nearby river.
The Mill Arts Centre at Banbury was also closed earlier in the week due to flooding.