Oxford City Council's Barton estate plans approved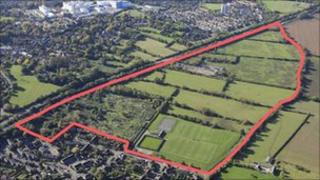 Plans to build 900 homes in Oxford have been approved.
Oxford City Council's proposals for the new neighbourhood to the west of Barton was declared "sound" by the Planning Inspectorate.
Colin Cook, board member for city development, said it was the culmination of several years' work and that planning for the first phase of housing was due in the spring.
Bob Price, leader of the council, said: "This is very good news for Oxford".
He added: "The council will now be moving quickly ahead to realise our aspiration for 800 to 900 much needed new homes for rent and to buy that will be built to an agreed plan that helps to meet our housing needs and provides a high quality sustainable environment for the residents."
Oxford has about 6,000 people on the council's housing waiting list and 165 more in temporary accommodation.
The average house price in the city is £343,461 compared with the average UK price which Halifax values at £160,256.