Oxford University hopes to find animal waste power formula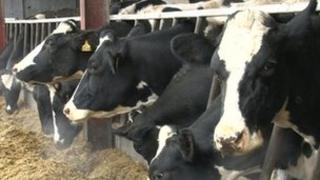 Researchers at Oxford University are looking for the magic formula that turns agricultural waste into energy.
The Low Carbon Hub claims the potential to develop wind power in Oxfordshire is limited and it is focusing on agricultural and woodland waste.
Anaerobic digestion produces methane gas from the breakdown of crop waste and animal slurry.
It is hoped tests by the university's Energy and Power Group will find which combination produces the most energy.
Slurry from Mapledurham Estate in south Oxfordshire is being used in the tests alongside a digestate called inoculum, which is produced from an existing renewable energy facility in Cassington.
The Cassington site in Witney currently processes 35,000 tonnes of solid waste a year and 15,000 tonnes of liquid waste, generating 2.1MW of electricity.
Cow's stomach
It is hoped the tests will establish if smaller facilities can be set up on individual farms across Oxfordshire, like Mapledurham, in time making them self-sustaining.
Barbara Hammond, from the Oxfordshire Low Carbon Hub, said the anaerobic digestion process was like building a cow's stomach.
She said: "The digestors break down the slurry which then turn it into a gas which can power a turbine to generate electricity.
"You can also generate heat from the process and at the end of it, you also get a perfect compost that can be put back onto fields.
"During the studies with Oxford University, we have calculated the renewable energy resources we have in the county and discovered animal slurry is one of our major resources which we're not using very much of."
The research team has set up six miniature anaerobic digestors to try to find which combination of animal slurry and crop waste produces the most methane, which in turn can be burned or piped as a gas for heating or electricity.