RAF Brize Norton spends £1.6m on cutting aircraft noise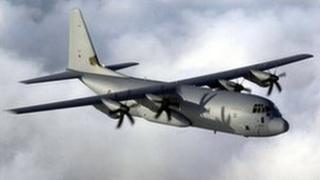 More than £1.6m has been spent on reducing noise levels at RAF Brize Norton, the RAF has said.
Base commander Steve Lushington said engine ground running had been limited to daylight hours and moved to different areas of the base.
The number of complaints dramatically increased after the Hercules fleet relocated to the Oxfordshire base.
Brize Norton is the main base for planes carrying UK troops and supplies to and from Afghanistan.
Steve Radband, parish councillor in nearby Bampton, said noise levels were still "absolutely horrendous".
Group Captain Lushington said the money had been spent on staff and resources to move aircraft to "less noise-sensitive areas" for ground running, the testing of engines while on the ground.
'Be sure'
"We are always looking for initiatives to reduce noise and have made a significant difference."
He said the RAF was investigating the use of "noise attenuation pens" which would trap or deflect noise from aircraft parked in them.
"Before spending taxpayers' money, we have to be sure it is something that can make a significant difference - it is not a simple answer."
Thirty three Hercules have been based at Brize Norton since July 2011, following the closure of RAF Lyneham in Wiltshire.
They are used to fly British troops and supplies to and from Afghanistan.
Tim Ripley, from Jane's Defence Weekly, described the pens as earth ramparts topped with plastic or metal.
He said: "We're not talking about silent planes. They could perhaps reduce noise levels by up to a quarter."
'Massive job'
An RAF report in September concluded the Hercules aircraft fleet broke official Ministry of Defence guidelines on noise.
The number of complaints about the Oxfordshire base increased from 23 to 958 for the year after the Hercules moved there.
Mr Radband said changing the areas where planes were ground running was was only shifting the noise between neighbouring villages.
"We all appreciate they have a massive job, with supplying the troops in Afghanistan and they have to make sure those planes are safe.
"It's just unfortunate you have children in the village who can't sleep and people who have to get up for work with no sleep," he said.