Gangnam Style singer Psy leads Oxford Union dance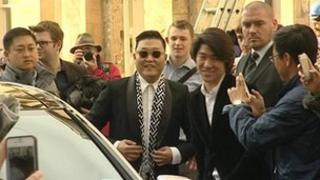 South Korean musician Psy, whose song Gangnam Style has been a worldwide phenomenon, has led Oxford Union students in a mass dance.
During his packed address in the prestigious university debating chamber, he turned on speakers and gave a rendition of his famous horse dance.
Hundreds joined in with his moves, made famous by a YouTube video of the track, which has had over 650 million views.
Psy, 34, said it was "like a dream" to speak at the society.
The singer is the first Korean pop artist to score a UK number one and hopes his success will start a new wave of Korean acts having success in this country.
But he told students that he had been surprised by the rapid success of Gangnam Style and he now felt the pressure to do the same with his new work.
The Oxford Union is one of the most famous and prestigious student societies.
It was founded in 1823 to provide a forum for free speech at a time when the Oxford University banned all discussion of politics and religion.