Oxford war graves cemetery gets QR smart phone code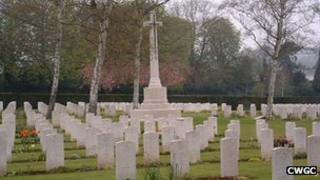 A war cemetery in Oxford is using mobile phone technology to give information about people buried there.
A panel being installed at the war graves site at Botley Cemetery bears a QR (quick response) code which can be scanned using smart phones.
It marks the start of a project by the Commonwealth War Graves Commission (CWGC) to install similar panels at 500 sites across Europe.
About 700 people are expected to mark Remembrance Sunday at Botley Cemetery.
The QR code once scanned will allow mobile phone and tablet users users to retrieve information about some of the 671 men and women buried there.
Dated photos
By 2014, codes will link users to information about the history of 500 sites and tell human stories using text, extracts from diaries and letters, photographs and audio.
The QR code at Botley will connect users to the tale of Ralph Wingrove, an RAF wireless operator who documented his time in the Middle East with photos dated from 1938 to 1945.
He and his crew were killed in 1945 when a Lancaster bomber on a training flight crashed near Leicester.
The system allows researchers to continue adding stories and information as the project develops.
The QR codes also link to interactive guestbooks for visitors to leave their own comments.
The roll-out of the codes across European World War I sites is aimed to be completed by 2014 in time for events marking the centenary of the outbreak of hostilities.