Oxfam bookshop in Oxford marks 25 years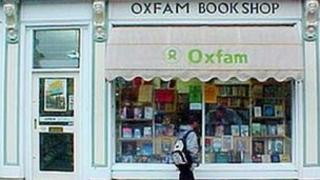 The first specialist bookshop to be opened by Oxfam is marking its 25th anniversary.
The store in St Giles Street in the centre of Oxford was opened in 1987 by barrister, author and raconteur Sir John Mortimer.
Lord Mayor of Oxford Alan Armitage is visiting the shop to pay tribute to its long-standing volunteers.
The bookshop, which is popular with academics and students, once sold a donated Graham Greene book for £15,000.
Green suppressed his 1930s novel Rumour at Nightfall, which he described as "badness beyond the power of criticism", unwittingly turning it into a rare find.
James Hellyer, deputy manager of the shop, said: "It's great to think we've been going for 25 years.
"We get a lot of rare books as well as academic material which is great for the students in the area.
"We sell new products nowadays but most of our stock is donated.
"It's up there as one of the most profitable [Oxfam] stores in the country."