Oxfordshire rent prices 'set to soar, federation warns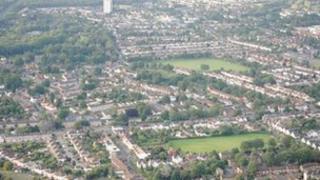 Rents in Oxfordshire will go up by more than half by 2022, the National Housing Federation has warned.
Its report suggests monthly rent will rise from £934 to £1,447 while house prices in the South East will increase by 61%, the steepest rise nationwide.
Warren Finney, South East manager, said it was down to a "chronic undersupply of homes across Oxfordshire".
James Gesner, from Lesters Estate Agents in Didcot, said the predictions were "very realistic".
He added: "House prices have doubled in 10 years. If the economy picks up and if mortgage lenders get a bit freer with lending, prices might soften.
"But there's still not the availability of stock."
Oxford City Council has about 6,000 people on its housing waiting list and 165 more in temporary accommodation.
Average rents in four out of five Oxfordshire local authorities rose faster than incomes in 2012.
In the case of Cherwell and Vale of White Horse, incomes actually fell by 1% while rents rose by 3%.
National Housing Federation figures indicate that the number of working people on housing benefits to pay for private rent has risen 86% across England in the last three years.
Mr Finney added: "It's crunch time for our unsustainable housing market, with house prices and rents set to rocket in Oxfordshire as thousands of families are already struggling to afford their home.
"Now time is running out to fix the problem, and a whole generation are at risk of being priced out of renting a home, let alone buying one."
Mr Gesner said that despite soaring prices, rented accommodation was quickly snapped up by those who could afford it.
"There is a shortage of rental properties... the minute something becomes available, it goes," he said.