Oxfordshire school routes bus firm in administration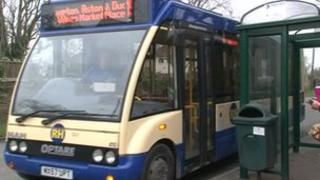 A bus firm which runs six school routes in north Oxfordshire has gone into administration.
Jeffs Coaches ran services to Cropredy School, St. Johns School and Blessed George Napier School, both in Banbury, and Magdalen College in Brackley.
It comes less than a month after hundreds of pupils had to find alternative transport to school after RH Transport ceased business.
A new operator will run Jeffs Coaches routes from Monday.
The firm forms part of Loughborough-based Bowen Travel Group which has been unable to pay its staff and is in administration.
'Acting promptly'
A total of 393 workers have been made redundant immediately with 55 staff members staying on to "fulfil remaining operations".
Councillor Rodney Rose, Oxfordshire County Council deputy leader and member for transport, said: "Jeffs Coaches is a long-established name in transport, but was in late 2005 bought out by a much bigger group from the Midlands.
"That group has obviously encountered financial problems and is no longer in operation.
"The impact in Oxfordshire is comparatively small but obviously important to the families of children who use the services in question.
"That's why we're acting promptly, as we did with RH Transport a few weeks ago, to bring in short-term replacements and make sure a seamless a service is provided."