Oxford's Donnington Bridge celebrated with mobile app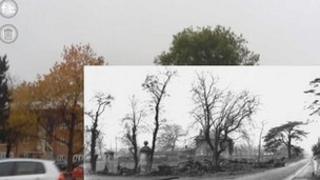 A retired lecturer has used a free mobile computer application to help celebrate the anniversary of an Oxford Bridge.
The app, called Aurasma, is being used Dr David Newman to allow users to view a scene in the real world with historical information overlaid on top.
He is using it to display old photographs of Donnington Bridge.
It is part of the local residents' association's celebration of the bridge's 50th anniversary.
Dr Newman said he came across the app when he was evaluating it for an Oxford University masters course.
He said it was surprisingly quick and easy to set up, and added: "It can be used for anything where there is a story to be connected to something in the real world."
App users viewing the plaque on the bridge will see an overlay of Lord Hailsham at the official opening on October 22, 1962.
On Saturday there will be a party to celebrate the 50th anniversary of the bridge called Bridge over Troubled Waters. It will start at 12:00 BST at the Donnington community centre.