Wizard of Oz leads to house blaze in Carterton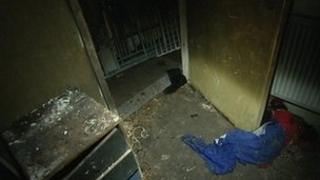 A woman who escaped from a house fire in Oxfordshire with five children has said it was started by them recreating the Wizard of Oz.
Kerry Wheeler had been cleaning out her spare room in Briary Way, Carterton, when she found some Halloween costumes.
While her back was turned the children used an old lighter to burn the costumes.
She added: "The children had been watching the Wizard of Oz and decided they were going to burn the witches."
When she saw the fire, Ms Wheeler ran to get some water but by the time she returned it had developed into a "massive fire".
She quickly got all the children to safety before firefighters arrived. They were treated at the scene for the effects of breathing in smoke.
The property was totally gutted by the blaze on Saturday morning but Ms Wheeler said she was happy to have made it out safely.
"That's stuff we can buy and replace, we can't replace people," she said.