Cotswold Maternity Unit in Chipping Norton closed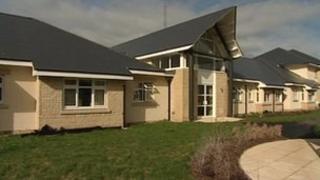 A maternity unit in Oxfordshire closed as part of an investigation into working practise concerns will not shut permanently, an NHS trust has said.
Oxford University NHS Trust said on Thursday it had halted births at Cotswold Maternity Unit in Chipping Norton.
But head of midwifery Jane Herve said the move would not be permanent.
Ruth Smith, who had a child delivered at the unit, said the closure was a "real shame".
Cotswold is a midwife-led unit for women with low-risk pregnancies who are not expected to need any interventions in labour, including epidurals.
'People value it'
Ms Herve said the investigation would look at a drop in the numbers of births at the unit, as well as higher than expected numbers of women referred to consultant-led units, compared to previous years and similar units elsewhere.
She said "a number of collective issues" needed to be "explained more fully".
But she insisted there was no suspicion of mismanagement.
Thirty-two babies were born at the unit in the first six months of 2012, with one birth in September.
Mrs Smith, whose second baby Thomasina was born in its birthing pool in August, said she was "shocked" by the unit's closure.
She added: "A friend who had also had two children there put it on Facebook and all of us reacted by saying 'that's a real shame' because people value it so much."
The trust said women booked in or who are considering giving birth at the unit would be contacted to discuss their options.
Antenatal support, breastfeeding advice, babies' hearing tests and postnatal care will continue to be provided at the site.
The internal review is due to take about three months.