Oxfordshire's Windmill Primary School set for expansion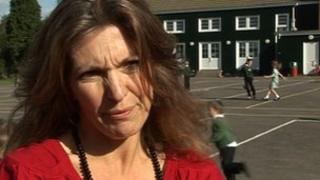 An Oxfordshire primary school could get an extra 150 places each year making it the largest in the county.
Windmill Primary School in Headington currently has 480 places and has admitted an extra 60 pupils over the past two years on a trial basis.
Concerns for the Oxfordshire County Council expansion proposals include the traffic impact on the area and pupil safety.
A public meeting about the plans was held on Tuesday evening.
'Insufficient places'
Head teacher Lynn Knapp said she had "mixed feelings" about the plans but said she was not concerned about the impact on teaching standards.
"If the school was to expand we would have the same pupil-teacher ratio," she said.
"Although we have a responsibility to the school community to provide more places I am concerned about the impact on the current school.
"I want to make sure all building work is a proper investment and done to a high standard."
The county council said it predicted a 10% increase in the need for primary school places in Oxfordshire by 2015, based on factors including population and housing growth.
A council spokesman said a lack of school places in Oxford and the surrounding areas would mean children would have to be enrolled in schools outside their communities.
He added: "In the worst possible case insufficient places would mean some children being unable to go to school."
Following consultation on the expansion plans there will be a four week period early next year when members of the public can lodge formal complaints before a final decision is taken by the county council cabinet.