Oxford University's first Ertegun scholars begin studies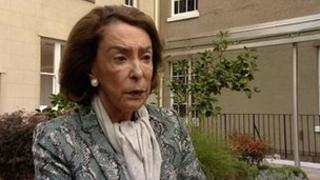 The first 16 beneficiaries of a £26m gift from a record label have begun their studies in Oxford.
Mica Ertegun, widow of Atlantic founder Ahmet Ertegun, has given the money to the University of Oxford.
It has been used to fully fund the humanities scholars and refurbish a four-storey study centre.
The university said it hoped to bring in rock stars as guest lecturers to "broaden the students' cultural horizons".
The scholarship is expected to grow to fund at least 35 Ertegun scholars each year and to last forever.
Led Zeppelin
The label founded in 1947 by Turkish-born Mr Ertegun, who died in 2006, provided an early platform for jazz, soul and blues musicians.
Among those who recorded for Atlantic were John Coltrane, Ray Charles, Otis Redding and Aretha Franklin.
His widow, a New York interior designer, said she began developing the idea after a concert by Led Zeppelin, who were also on the Atlantic label.
The band's lead singer Robert Plant gave her a sum of money to donate to a cause in the UK and she approached Oxford.
Mrs Ertegun said: "I'm here because of them.
"They had a concert here, Robert Plant came with an amount of money and said this is in memory of your husband, do whatever you want with it.
"I had to something with the money in England as it came from England.
"Although he was deeply into music, my husband was very keen on education."
The college said it was delighted to gain the support of Mrs Ertegun.
It is Oxford's biggest ever donation in the humanities.