Funeral deposits criticised by Oxford MP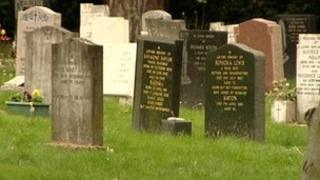 Low-income families in Oxford are unable to bury dead relatives because of upfront funeral costs, an MP claims.
Oxford East MP Andrew Smith said people were unable to afford the deposit for a funeral which is needed before a government grant can be paid.
The Labour MP said he had written to the Secretary of State for Work and Pensions, and Oxford undertakers.
The Department of Work and Pensions (DWP) said it just needed details of the costs before a payment can be made.
A DWP spokeswoman said: "People can make a claim for a funeral grant before the funeral takes place, if the funeral director is willing to produce an itemised invoice."
Catch 22
Mr Smith criticised what he said were requests from undertakers for upfront payments of up to £1,250.
He said: "These poor families at a very painful and vulnerable time are caught in a catch 22 situation."
Michael Walton from Oxford is still waiting to bury his brother David, who died on 31 August, but is unable to afford the £480 deposit to the undertakers to secure a date.
Mr Walton said the experience was making him "depressed, sad and lonely".
"I just want to stop crying. David was a decent person and he should have been buried by now," he said.
Carole Roberts, of the Rose Hill and Donnington Advice Centre, said cases like Mr Walton's were the "tip of the iceberg" and even better-off people were having to take out high-interest loans to pay for funeral costs.
Mr Smith, who intends to raise the issue in parliament, said: "I don't think it's an uncommon problem. It's too terrible to think about not being able to bury people because people can't get the money."
Dominic McGuire, of the National Association of Funeral Directors, said that the system was fair.
"In the event the family do not pay, the funeral director is still liable," he said.