Sir Tony Baldry in clear over Banbury car crash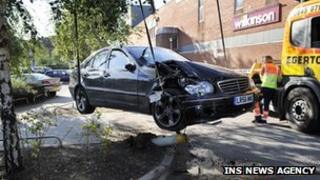 An Oxfordshire MP who lost control of his Mercedes and ploughed into parked cars, a bollard and a portable toilet will not face criminal charges.
Sir Tony Baldry was trying to park his car in Banbury last month when it began to creep forward.
The matter has been investigated and deemed to be an accident, said a Thames Valley Police spokesman.
Sir Tony, 62, the Conservative MP for Banbury, said he was "lucky to be unhurt" after the crash.
He gave a negative breath test to police officers at the time.
The former aide to Margaret Thatcher has been an MP since 1983.