Haydan O'Callaghan given life for Aaron Buron murder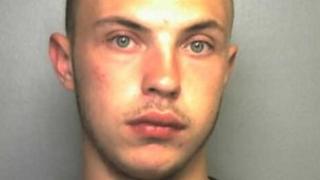 An 18-year-old man has been sentenced to life in prison for murdering a musician in Oxford.
Haydan O'Callaghan will serve a minimum of 21 years over the stabbing of hip-hop artist Aaron Buron, 29, during a fight on 31 March.
O'Callaghan, of Saunders Road, Oxford, had pleaded guilty to manslaughter at Oxford Crown Court.
But he was unanimously found guilty of murder by the jury after a week-long trial.
Speaking after the verdict, Det Ch Insp Steve Tolmie said: "Aaron Buron died after he protected the girlfriend of O'Callaghan when she was attacked by him.
"O'Callaghan then went to the kitchen and armed himself with a knife before he went outside looking for Aaron.
"O'Callaghan has shown no remorse and no concern for the taking of a life of another man in such a violent way.
"When he was arrested he told lies and told investigating officers he was not involved. Only at the eleventh hour, and days before this trial started, did he admit the killing but attempted to mislead the jury and minimise his involvement by insinuating that he was blind drunk and could not remember.
"O'Callaghan is a violent and dangerous man."