Two new Oxford cancer centres announced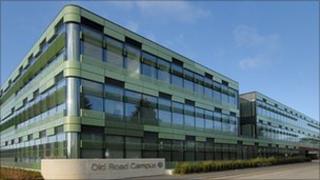 Two new Oxford cancer research centres costing £170m have been announced by Chancellor George Osborne.
The University of Oxford will be part of a £32m consortium for a new centre, which will analyse large medical data sets to improve treatments.
It will also be involved in a £138m unit for research targeted at patients with early stage cancer.
Oxford University Hospitals NHS Trust will also be involved in the two projects.
They are being part-funded by the UK Research Partnership Investment Fund. Industry and charity organisations will also be contributing.
Cancer Research UK is helping to fund the city's £138m centre.
'Brightest researchers'
Dr Iain Foulkes, its executive director of research funding, said: "Cancer Research UK is delighted to support this ambitious research initiative in Oxford that will bring together world-class scientists to help propel forward research into personalised cancer treatments."
Nicola Blackwood, MP for Oxford West and Abingdon, said the announcement would mean the best and the brightest researchers would come to the area.
She added: "It will mean that where there is a risk of brain drain, where perhaps people think they might have more of a chance getting jobs elsewhere, that just won't be the case.
"It really shows that our government is investing in science, research and innovation right here in the UK, that this is the place to be."
Oxford is already a hub for cancer research.
In March 2011, Cancer Research UK opened up a building on Roosevelt Drive, which is part of a network of 16 units across the country.
It serves as a link between the University of Oxford, Oxford Radcliffe Hospitals NHS Trust and Cancer Research UK.
In total last year the charity spent nearly £23m on research in Oxford.