RH Transport: Oxfordshire pupils hit as bus operator folds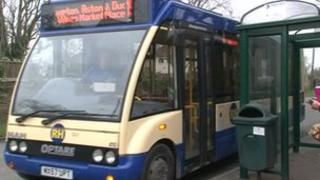 Hundreds of pupils in Oxfordshire had to find alternative transport to school after a bus and coach operator went into administration.
RH Transport announced it was ceasing its services on Thursday evening. Seventy people have lost their jobs.
The county council said it had secured replacement operators from Monday.
Thirty free school transport services have been affected as well as a further 14 other bus routes. These services will be free of charge on Monday.
RH Transport provided services on behalf of Oxfordshire County Council alongside some private hire contracts.
The council provided some replacement services on Friday but said "having been given less than 24 hours notice" was unable to secure services for all routes.
'Exemplary job'
It added three schools - Chipping Norton, Henry Box and Wood Green - were on an inset day and therefore did not need alternative transport.
Wheatley Park School in Holton was one of the schools which did not receive a replacement service for its 104 regular users.
Head teacher Kate Curtis said attendance had not been affected but said the school had seen an extra 30 to 40 vehicles on site.
"This means an extra six members of staff have been brought in at the beginning and end of the day to ensure everyone gets on and off the site safely," she said.
The council said it had taken the decision to offer free transport on 14 affected bus routes "following the inconvenience caused".
Among the affected routes is the 700, linking Water Eaton with the John Radcliffe Hospital.
Hugh Jaeger, chairman of Bus Users UK Oxford Group, an independent group representing bus passengers, praised the "swift action" of Oxfordshire County Council and thanked RH Transport drivers for their services to the public.
"Even on their last day, most drivers stuck to their duties and some did an exemplary job of informing passengers of what was happening," he said.