Celebrities come together for Oxfam's 70th anniversary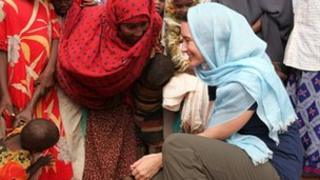 Sex and The City's Kristin Davis will be among the stars taking to the stage at an Oxford theatre to mark the 70th anniversary of Oxfam.
The Oxford Playhouse will host an evening of storytelling and performance on 14 October to mark the charity's founding in the city.
Glastonbury founder Michael Eavis and broadcaster Ian Hislop will share their inspiring Oxfam stories.
African singer-songwriter Rokia Traore will also perform.
Ms Davis said: "There are so many untold and fantastic stories that touch Oxfam's world, which should be shared.
"This event is a very special 70th anniversary celebration and I am honoured to be involved as a Global Ambassador for Oxfam."
Coldplay, African singer Angelique Kidjo and Oxfam Ambassador actor Colin Firth will give video contributions.
Katy Snelling, from Oxford Playhouse, said: "We're really excited to host this birthday celebration and welcome such an inspiring line-up of speakers to our stage."
'Extreme poverty'
Oxfam began as The Oxford Committee for Famine Relief on 5 October 1942 at St Mary's Church, Oxford High Street.
The group campaigned for food to be sent to women and children in enemy-occupied Greece during World War II.
It now has more than 700 shops in the UK supported by 22,000 volunteers.
Dame Barbara Stocking, who has led the organisation since May 2001, said: "In many ways, 70 years of Oxfam is not really a cause for celebration.
"We will only really be able to celebrate when there is no more need for Oxfam, when everyone in the world has enough to eat and extreme poverty and suffering are consigned to history."