Men honoured for Oxford Plastics fire rescue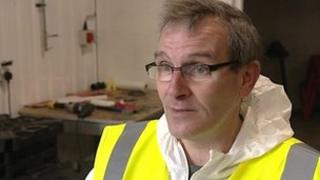 Two men from Oxfordshire are being given a fire service bravery award for entering a burning plastics factory to save a colleague.
Batisz Pytko and Arthur Biegala, from Banbury, broke through a wall to search for Pat McDonald trapped inside.
The pair crawled under the smoke through a hole and pulled him out of the burning Oxford Plastics building.
Mr McDonald said: "I went to the ground and had basically taken my last breath, I thought that was it."
After four attempts to find Mr McDonald, the men dragged him unconscious out through the hole by his feet.
He was taken to hospital where he was treated for smoke inhalation.
Miraculous rescue
Now fully recovered, Mr McDonald, 55, was one of nine members of staff on duty at the Enstone plant at the time of the fire in May.
He said: "The smoke went through the building in seconds. If it wasn't for them I wouldn't be here."
At its height about 80 firefighters were at the factory. Smoke from the fire could be seen up to 12 miles (19km) away.
Dave Etheridge from Oxfordshire Fire and Rescue said "It really does renew your belief in human nature and mankind."
The men will be given the Chief Fire Officers Commendation for Bravery at an awards ceremony held by Oxfordshire Fire and Rescue service.