Confidential patient notes left on Oxford to London bus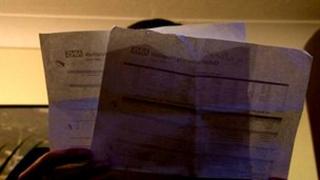 A passenger has found confidential hospital patient notes on an Oxford Tube bus seat.
The person, who has asked to remain anonymous, found the Oxford University Hospitals NHS Trust papers while travelling to London.
She saw them dropped by a woman but was unable to catch her to return them.
The trust has apologised for the breach of confidentiality and said the papers should never have been taken off site.
They were marked confidential and contain information about 20 in-patients and three out-patients.
They list their names, dates of birth, hospital numbers, symptoms, abbreviated medical conditions and tests or treatments required.
'Immediate action'
The woman who found them said: "I was pretty horrified straight away that I was seeing patients' names and obviously this was personal information about people in hospital."
She said she had chosen to show them to the BBC so the matter "would be taken seriously by the hospital".
She added: "I just hope this thing doesn't happen again because if it was my gran's name that was on the paper I wouldn't want other people seeing information about her or why she was in hospital."
Medical Director Prof Edward Baker said: "Patient confidentiality is an absolute priority for the trust.
"Any loss of patient information is taken extremely seriously and fully investigated.
"We apologise for this breach of confidentiality and will be contacting each of the patients as matter of urgency to notify them.
"We have a rigorous process for investigating such breaches and immediate action will be taken to find out why, on this occasion, our procedures for maintaining confidentiality were not followed."