Supergrass plaque for Oxford venue where band began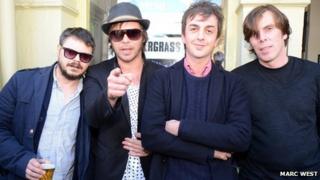 Indie band Supergrass have unveiled a heritage plaque at the Oxford music venue where they were first signed.
The band performed regularly at the Jericho Tavern before they eventually secured a record deal in 1994.
Brothers Gaz and Rob Coombes, Mick Quinn and Danny Goffey went on to have hits with Alright, Going Out and Late In The Day before splitting in 2010.
They were awarded the PRS for Music Heritage Award in a ceremony at the Walton Street pub earlier.
Today, up-and-coming bands continue to perform at The Jericho Tavern on the venue's upstairs live music stage.
Assistant manager Arthur Hawkes is pleased the pub has been recognised for its contribution.
'City's musical heritage'
He said: "It's a really nice tribute, especially as Supergrass grew up around here and forged a career here.
"Even 18 years later, you get customers coming through the door asking if anyone was at the gig and remembers what they were like.
"Normally people associate Oxford with Radiohead, so this adds another dimension to the city's musical heritage."
Former Supergrass bassist Mick Quinn remembers the venue fondly.
He said: "Everyone aspired to play there and I remember seeing my brother's band This Way Up as early as 1983.
"Our first positive reviews came at the Jericho when we were called Theodore Supergrass and I remember our promoter 'Maccy' bursting into the dressing room after a gig in 1994 telling us, 'You've got it!"
"Soon after, that's when the feeding frenzy of record company A&R men started."
Referring to the music heritage award, PRS chairman Guy Fletcher said: "Supergrass were so much a part of our soundtrack to the 90s and the guys worked incredibly hard.
"Oxford is an important hub for British music and live music venues like The Jericho Tavern need to be celebrated."
Former winners of the PRS for Music Heritage Award include Blur, Snow Patrol and James.