RAF Brize Norton Hercules noise 'exceeds MoD guidelines'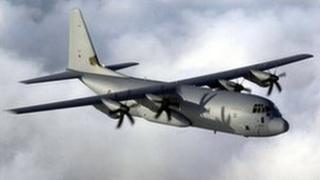 The Hercules aircraft fleet at RAF Brize Norton has broken official Ministry of Defence guidelines on noise, according to a report.
The number of complaints about the Oxfordshire base increased from 23 to 958 after the fleet moved there last year.
The MoD said it was actively working to reduce the effects of noise.
Thirty three Hercules have been based at Brize Norton since 6 July 2011 after RAF Lyneham in Wiltshire closed.
Air Commodore Jon Ager said: "The results show that, prior to any mitigation, the measured noise in some local villages exceeds the MoD guideline levels."
He said the MoD had apologised to residents and was working with them to improve the situation.
'Almost a roar'
Engine ground runs will now only be conducted when "deemed to be essential to current military operations" and, when possible, aircraft would be towed to areas from where noise had "less of an impact".
Permanent noise monitoring stations are being installed and the MoD is investigating the possibility of building indoor testing facilities to enclose the noise.
West Oxfordshire District councillor Mark Booty said: "I think it was a mistake by the RAF when they first did their planning in that they didn't actually plan for ground running noise.
"They did take off and landing noise, but not ground running.
"It's really irritating. Where I am [3.5 miles away] it's a hum and when you get into Black Bourton it's almost a roar.
"But to be honest, since the report was commissioned they are taking steps.
"They've started towing these aircraft around the base and facing them in different directions.
"We recognise the importance of all the good work they are doing in relation to transport to Afghanistan.
"We absolutely welcome the report, but I don't think there is this magic bullet."