Aaron Buron death: Haydan O'Callaghan admits stabbing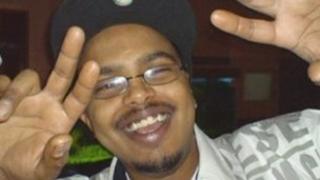 An 18-year-old man has admitted stabbing a musician to death in Oxford but has pleaded not guilty to his murder.
Hip-hop artist Aaron Buron, 29, was stabbed in Rose Hill on 31 March.
At Oxford Crown Court, Haydan O'Callaghan, of Saunders Road, Oxford, admitted manslaughter.
Ian Acheson, prosecuting, told the court that Mr O'Callaghan "flipped" after Mr Buron intervened in a fight involving Mr O'Callaghan.
The prosecutor described a series of events that took place at the home of Lisa Harris, in St Martin's Road.
Piece of wood
During the tussle, Mr Buron attempted to get Mr O'Callaghan into a headlock to stop him attacking Latasha Peck, the 18-year-old's girlfriend, and both men were seen to bite each other.
Mr O'Callaghan managed to retrieve a knife from a draining board in the kitchen and gave chase.
Mr Buron, armed with a piece of wood, backed away and was then stabbed, the court heard.
"[He] fell quickly to the floor and had the handle of a knife protruding clearly from his chest," Mr Acheson said.
Mr Buron was taken to the John Radcliffe Hospital where he was pronounced dead.
The trial continues.