Oxford sex trafficking inquiry: Nine men plead not guilty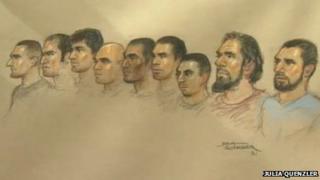 Nine men have pleaded not guilty after being accused of involvement in a child sex-trafficking ring in Oxford involving six girls.
The men face a total of 51 charges between them, and appeared at the Old Bailey in central London earlier.
A trial date for the men has now been set for 14 January 2013.
They are accused of the exploitation of girls aged between 12 and 16, over an eight-year period.
The men facing charges are Anjum Dogar, 31, and his brother Akhtar, 32, both of Tawney Street; and Kamar Jamil, 28, of Aldrich Road.
Also charged are Zeeshan Ahmed, 28, of Palmer Road; Mohammed Karrar, 39, of Cowley Road; Mohammed Hussain, 25, of Horspath Road; Assad Hussain, 32, of Ashurst Way; along with Bassam Karrar, 34, and Bilal Ahmed, 26, of no fixed address.
The men were charged as part of Thames Valley Police's Operation Bullfinch.
Judge Peter Rook said they would appear at pre-trial hearings in November and December.