Footballer Robert Hughes cannot recall 'kicking a ball'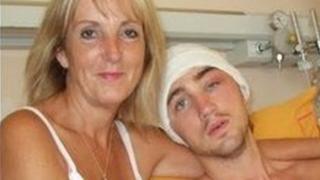 A former Oxford United player left brain-damaged after an attack in Crete still has no recollection of ever "kicking a ball" for the club.
Robert Hughes, of Croydon, south London, was stabbed with a broken bottle and had his head stamped on, leaving him with no long-term memory.
Greek doctors had said Mr Hughes, who was in a coma, was 48 hours from death and warned he would be left paralysed.
He needed three life-saving operations after the attack in June 2008.
Mr Hughes is now undergoing a series of operations to repair his damaged ear.
He said: "I've played football for a living, for different teams, but I don't remember once kicking a ball for anybody (professionally).
'Don't know friends'
"[My family] said I was on holiday with friends and I was attacked and hurt and that I was in hospital for months. My life was destroyed."
Mr Hughes, who had to learn how to eat and move again, remembers nothing of the 10 years before he was attacked.
He said: "People say you're their family... but I don't once remember speaking to anybody before what happened to me.
"I can't even be friends with the friends I had before because I don't even know them properly."
Mr Hughes described the support from his family as "unbelievable".
"Since I've come back I've got to know them," he said. "I don't remember being in Greece but I've seen videos of my family being there, putting themselves in financial debt."
A campaign by his mother, Maggie, has seen measures to improve victims' rights across Europe being approved.
Once fully ratified the package of measures will be implemented by all member states within three years.
They aim to ensure that all countries offer victims and families similar levels of advice, and help them access medical and judicial services.
Mrs Hughes said: "The first thing that hit us was we couldn't speak the language, we didn't know where Robert was."
Six men, from Surrey and Sussex, were extradited to Greece in connection with the attack.
Mrs Hughes said a trial would be held in Greece in November.