Shenington Airfield marks turbo jet engine test anniversary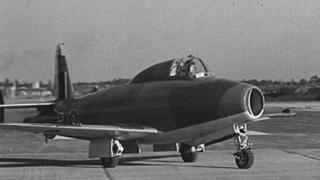 An Oxfordshire airfield is celebrating 70 years since the first turbo jet engine test flight took off from there.
The first jet aircraft, the Gloster E28/39, was tested in secrecy during World War II at RAF Edgehill, now Shenington Airfield, in 1942.
An airfield spokesman said these tests on the turbo jet engine, invented by Sir Frank Whittle, "would herald the start of the jet age".
Events on Saturday include a demonstration by a large model jet.
Visitors can also view exhibits, including the Frank Whittle collection loaned by the Midland Air Museum from Coventry Airport that features a section from the original engine.