Musician Andrew Milloy turns pain of stillbirth to song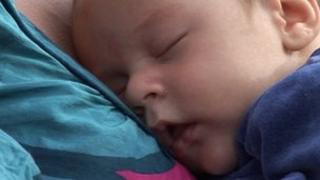 An Oxfordshire father hopes his music will raise money into researching stillbirths in the UK.
Andrew Milloy, from Cholsey, lost his daughter Philomena to a stillbirth four years ago.
The musician has written and released an EP named after his daughter about his bereavement with the proceeds to be donated to charity Sands.
According to the charity, 11 babies are stillborn every day in the UK and for more than half, the cause is unclear.
That was the case with Philomena when her heart stopped beating hours before she was due to be born on New Year's Eve, 2008.
Mr Milloy, whose older sister was also stillborn, admitted writing music helped him deal with the pain of grieving.
First child
He said: "I had written pieces of music in my teens, but never lyrics, so I began to write songs for the first time in my life.
"I took the plunge and then decided to work up the courage to perform one of them, called Breathe, at a local open mic night.
"The reaction was really positive, so I ended up becoming a regular at the event."
He added: "We had tried for four and a half years to have a child and despite a complication-free pregnancy, the end was heartbreaking for us."
Andrew and his wife Anna had a son, Orlando, this summer, but the couple said the memory of their daughter will live on.
She said: "We always celebrate her birthday on New Year's Eve and last year was the first time we knew we were expecting Orlando, so that made it extra special."
Mr Malloy added: "She'll always be our first child and Orlando's sister, so we're not going to hide it from anyone as it's written all over our lives."