Pods aim to solve Oxford housing need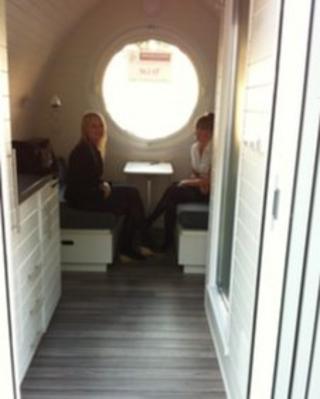 A letting agent in Oxford believes tiny Scottish-built homes could be the solution to the city's lack of housing.
The miniature buildings measure 3 metres (10ft) by 2.5 metres (8ft) but include modern conveniences, running water and electricity.
A first such pod has recently been built on Middle Way in Summertown.
An Oxford City Council spokesman said that as the Armadilla units were designed for independent living they would require planning permission.
They cost about £25,000 to produce and the idea is to rent them for £400 per month, according to North Oxford Property Services.
A spokesman for the firm said it hoped to have 12 pods built around Oxford by Christmas, subject to planning permission.
Oxford has about 6,000 people on the council's housing waiting list and 165 more in temporary accommodation.
The average house price in the city is £343,461 compared with the average UK price which the Halifax values at £160,256.
If approved by the planning authorities, the buildings could be placed in gardens in desirable areas of the city.
The upside down boat-shape design minimises the amount of space above the resident's head to reduce heating costs.
It has under-floor heating and a combination microwave cooker.
The table under the window folds away to form a bed and there is a small toilet and shower cubicle.
One estate agent said they were already receiving a lot of interest from prospective tenants.
He added: "It is a compromise. It's small but it's perfectly formed."