Banbury jewellery robber caught by public admits guilt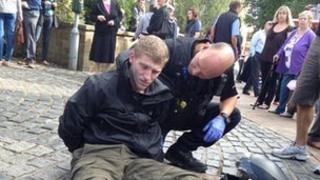 A man caught by the public robbing a jewellers in Oxfordshire has been told he will serve a lengthy prison sentence after admitting his guilt.
Jimmy Stringer, 23, of Popham Street in North London pleaded guilty to robbery over a raid at Michael Jones Jewellers in Banbury last Tuesday.
He was stopped by shoppers who saw the robbery taking place and pinned him to the ground until police arrived.
The judge at Oxford Crown Court delayed sentencing until November.
During the raid a gang of four smashed their way into the jewellers with sledge-hammers.
They grabbed Rolex watches but fled when a security device discharged smoke in the shop.
A 21-year-old man from Essex was arrested later on suspicion of robbery, and also of supplying drugs. A 25-year-old man from Banbury and 20-year-old man from London were also arrested on suspicion of robbery. All have been bailed until 21 October.
It was the fourth raid on the shop in five years.