Footballer Robert Hughes' mother secures European laws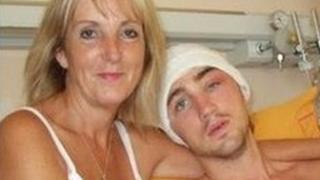 Measures to improve victims' rights across Europe have been approved following a campaign by the mother of a former Oxford United player.
Maggie Hughes fought for four years to get the measures introduced after her son was attacked in Crete.
In 2008, Robert Hughes, from Croydon, was stabbed with a broken bottle and had his head stamped on, leaving him brain-damaged.
Mrs Hughes campaigned to improve access to medical and judicial services.
Speaking before the vote in the European Parliament, Viviane Reding, the European Commissioner for Justice, described her as a "wonderful woman".
She said Mrs Hughes had being one of the driving forces behind the legislation.
She added: "Maggie was there to help [Robert] and had no possibilities to help him, had no person, no organisation to turn to, didn't know the language of this place, couldn't communicate with justice, couldn't communicate with hospitals, was completely lost.
'Second strength'
Once fully ratified the package of measures will be implemented by all member states within three years.
They aim to ensure all countries offer victims and families similar levels of direction and advice and help them access medical and judicial services.
Mrs Hughes said she was driven by the desire to ensure that no other family suffered as hers had.
She added: "I'm just a mum - If something happens to one of your family or children something happens to you, you get a second strength."
Her son, who had been left in a coma after he was attacked, has made a remarkable recovery.
Greek doctors said he was 48 hours from death and warned he would be paralysed after the attack.
But, although he remembers nothing of the last decade he is back playing football and in 2009 was signed for Welling United.