Thames Valley Police shift pattern 'increases fatigue', survey shows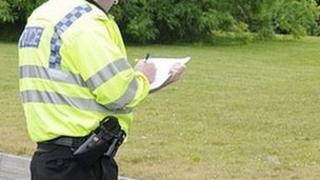 A new police patrol shift pattern "increases fatigue", according to a Thames Valley Police Federation survey.
About 500 officers were asked about the force-wide standardised pattern that features more night shifts in a row.
Thames Valley Police said this was to ensure the right number of 999 officers with the right skills were available for duty at the same time.
But the federation said survey results showed the new shift pattern did not allow officers' body clocks to adjust.
'Body clock locked'
Federation secretary Andy Viney said the initial results of the survey - carried out between July and August - showed the new pattern was unpopular among officers.
It was introduced force-wide in January across Berkshire, Oxfordshire and Buckinghamshire so that each core 24/7 response unit would be on shift at the same time across the patches.
It replaced five different shift patterns in the force.
The federation's East Berkshire representative Sarah Lutterloch said officers preferred the previous patterns.
An example of that was a six days on, four days off shift: two early shifts, two lates and two nights and then four days in lieu.
"This means the body doesn't get locked into a night shift pattern," she said.
With the new system officers can find themselves on a night shift all week.
Mr Viney said: "It's looking like most officers find the shift pattern increases fatigue mainly through a week of long hours which upsets the work life balance".
Ch Supt Alan Baldwin from the force said: "The new shift pattern is about Thames Valley Police making sure that it has the right number of officers in the right places with the right skills at the right time in order to protect the public and fight crime."
He added the force would evaluate the new shift patterns to see if "improvements can be made", which would include "consideration of the views of officers and the federation".