Brandy Island boat business plan approved by council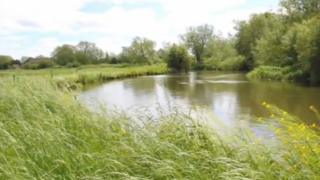 Plans to turn a derelict water treatment works site on an island in the River Thames into a marina have been approved by councillors.
Cotswold Boat Hire's proposal to develop Brandy Island at Buscot Weir, near Faringdon, in Oxfordshire will see 17 new moorings built.
The plans were approved by the Vale of White Horse Council on Wednesday night.
Residents, the National Trust and others had objected, saying it will ruin a tranquil part of the river.
The application had been supported by planners but the council had received 348 objections mainly on the ground of increased traffic, noise and disruption to wildlife. There were just 54 responses in support.
Cotswold Boat Hire plans to turn Buscot Mill, known as Brandy Island after a distillery that was housed there in the 19th Century, into a boat hire business.
The plans also include a car park and turning the old chlorinator building, pump house and garage into a visitor reception, storage and boat repair areas.
Villagers 'devastated'
The firm says traffic generated will "have an imperceptible impact" on the local roads and a majority of the site towards the western end would be an "ecological restoration area for wildlife".
"There would be no loss of existing trees or vegetation and a wildlife pond would be created," it said.
But residents say the new boatyard will be an eyesore and will destroy a beautiful area.
Ellen Hopkins, of the Save Buscot campaign, has lived at the Old Parsonage next to St Mary's Church for 30 years.
She said all 200 villagers had objected against the plans.
Mrs Hopkins said: "We are so devastated by last night. We were defeated unanimously.
"We haven't been represented by our elected representatives.
"It wasn't so much a vote for the boatyard, it was against the local community."
Brandy Island was compulsory purchased by the Water Board in 1955 and the pumping station remained in use until 1992. In 2009 Thames Water sold it at auction.
The National Trust, which owns surrounding land, also opposed the proposal and had tried to buy the site but its offers were rejected.