Bermuda officer killed in A34 crash near Drayton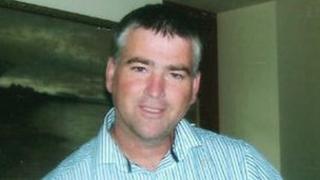 A man who died in a crash on the A34 in Oxfordshire was an officer from Bermuda in the UK for military training.
Christian Wheddon, 43, died when the Mitsubishi he was a passenger in left the northbound carriageway near Drayton on Sunday. The driver was also hurt.
He had been in the UK since July preparing to become the next commanding officer of the Bermuda Regiment.
Maj Wheddon was part of the security forces for the Olympic Games, where he met up with Bermudan athletes.
Young daughter
In a statement released through police, his family said: "We are devastated. Words cannot express the shock and horror of Chris's passing.
"He was so happy to have the opportunity to train in the UK and was looking forward to his next posting in Bermuda.
"He was the rock of the family and we will all feel lost without him."
The major, who was born and raised in Bermuda, leaves a three-year-old daughter, Katherine.
His family added: "He will be deeply missed by all that knew him but his family and friends take comfort knowing he was doing what he loved.
"He had two real loves in his life: his daughter Katherine and the Army."
Maj Wheddon was also a sergeant with the Bermuda Police Service and an avid sailor who spent much of his spare time taking part in races around Bermuda.