Sir Tony Baldry MP hits four cars while parking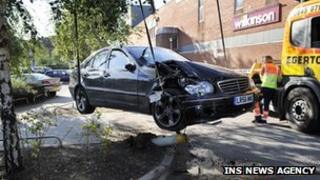 An Oxfordshire MP says he is lucky to be unhurt after losing control of his car and crashing into four cars.
Banbury MP Sir Tony Baldry tried to park his black Mercedes in the town centre on Friday afternoon when it began to creep forward.
As he tried to stop it, the car hit the parked cars, a bollard and demolished a portable loo.
Police said the vehicle was being checked to see if it had any mechanical defects.
The former aide to Margaret Thatcher and MP since 1983 said it was "very scary indeed" during the accident.
He gave a negative breath test to police officers.