Oxford Story Museum postponed until 2015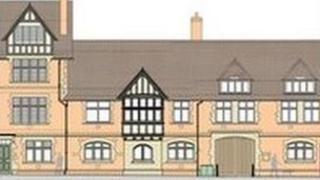 A project to create a museum about stories in Oxford has been postponed after the city failed to become Unesco World Book Capital City in 2014.
The Story Museum's building on Pembroke Street, called Rochester House, will now open in 2015.
It promises people the opportunity to experience tales in a variety of ways.
Joint director Kim Pickin said it was getting increasingly tough to raise money and the delay would give the project more time.
Earl visit
The World Book Capital City, which would have run from April 2014 to April 2015, was won by Port Harcourt in Nigeria.
Ms Pickin said: "We were having to work pretty hard to try and squeeze in the opening of the Story Museum during that window."
The project has existed since 2003 but was made a reality in 2009 when an anonymous benefactor came forward with £2.5m.
This money enabled the museum to buy the building on Pembroke Street.
It said at the time it still needed to raise a further £11m to transform Rochester House into a museum.
The Earl of Wessex visited the project in January to see some of the activities and performances it had been developing.