Anglo-Saxon brooch displayed at the Oxfordshire Museum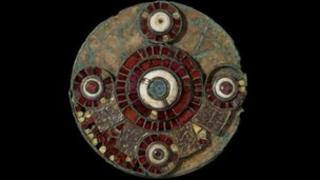 A garnet and gold brooch that had been buried for almost 1,500 years is to go on display at the Oxfordshire Museum.
The piece of jewellery dating from the 7th Century was found at West Hanney, Oxfordshire, in 2009.
It was bought for £2,750 with the assistance of the V&A Purchase Grant Fund, the Headley Trust, and the Friends of the Oxfordshire Museum.
The brooch was found with the skeleton of a woman aged in her mid-20s who is thought to be of high social status.
Anni Byard, Oxfordshire County Council's finds liaison officer, said the items found in her grave were of national and local importance.
She added: "This is the 20th find of its type recorded in England and the western-most example, as most other find spots are distributed in Kent, East Anglia, Essex and Bedfordshire.
"Although we do not know whether its owner was Gewisse - the tribal name of the local Saxons - further investigation of the finds will increase our understanding of the burial."
The brooch will be on display at the museum in Woodstock from 8 September until the end of December. Entry is free.