The People's Supermarket in Oxford is burgled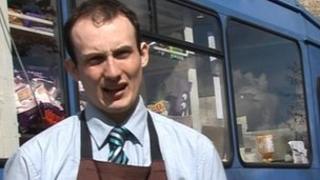 A supermarket owned and run by local people in Oxford has been burgled less than two months after opening.
The People's Supermarket was set up by greengrocer Chris Waites, inspired by a Channel 4 series of the same name.
Mr Waites said: "Obviously as a non-profit shop it's particularly upsetting as all our profits are reinvested into the community."
A safe containing approximately £2,500 in cash was stolen on Monday afternoon.
It is believed someone climbed over the wall at the back of the shop to steal the safe containing the weekend takings.
Mr Waites added: "It's effectively money that's been stolen from good causes in Oxford."
Locally-sourced produce
He said police had found fingerprints and that a reward of £1,000 was being offered for any information leading to a conviction.
"We're really keen to bring whoever took it to justice... someone in Oxford is going to know who did it," he said.
The Cowley Road store opened in July and is run by local volunteers who work shifts in return for a 20% discount on purchases.
About 500 volunteers from the community own shares in the non-profit organisation, which offers locally-sourced produce whenever possible.