Puppy rescued after being dumped in Bicester bin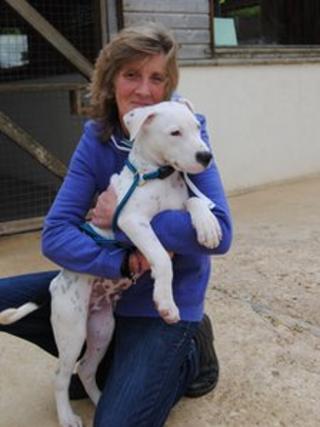 A puppy has been rescued after being dumped in a bin in Oxfordshire.
The dog - which has been named Binny - was found with bleeding paws after being forced through a small opening in the recycling bin in Bicester.
A Cherwell District Council waste officer discovered the Staffordshire bull terrier cross on Thursday.
Councillor Nigel Morris said the "callous" person who dumped the puppy could be prosecuted by the RSPCA if tracked down.
He said: I'm a dog owner myself and I can't imagine how I would feel if my pet had been put through this kind of ordeal."
The puppy is now being looked after at Ardley Rescue Kennels near Bicester.
'Scratching to escape'
Kennel trustee Annabelle Pottle said: "He's only a puppy, we'd estimate somewhere between 12 and 16 weeks old.
"When he was brought in he was bleeding from his feet, around the claws, which is most likely from him scratching to get out of the bin.
"That is something which will heal now he's out, but it must have been quite an ordeal for him.
"We think he's deaf, which probably means he has some English bull terrier in him."
RSPCA inspector Luke Hughes said: "It is shocking to think that someone has just dumped this poor puppy in a bin.
"Who knows what would have happened to him if he hadn't been found?"