Tom Brown's School Museum given Betjeman's love letters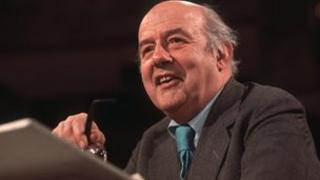 Letters revealing Sir John Betjeman's second illicit love affair have been given to a small museum in Oxfordshire.
Tom Brown's School Museum in Uffington was given the valuable collection of more than 100 letters and postcards by the daughter-in-law of Margie Geddes.
Mrs Geddes had a relationship with the former Poet Laureate which only came to light after her death in 2006.
The public will have access to the collection for the first time when they are displayed in October.
'Haunt my mind'
Sir John first met Mrs Geddes when he was in his 20s but she broke off their friendship when she learned of his marriage to Penelope Chetwode in the mid-1930s.
They met up again after she invited him to a speaking engagement in 1960, by which time he was conducting an affair with the Queen's close friend Lady Elizabeth Cavendish.
During her life, Margie Geddes refused to speak to Betjeman's biographers about their friendship which was always thought to have been platonic.
But her son Andrew made an account of the letters public following the death of his mother in 2006, aged 98.
In one of them, Sir John writes: "Darling Margie, I fear you are bound to haunt my mind for the rest of my life. I like this haunting. I feel I can rest in you and depend on you."
It was always her wish that they were made available for research after her death. Sharon Smith, curator at the Tom Brown's School Museum, said: "We are immensely privileged to hold these original letters."
The museum already has a number of Sir John's correspondence donated by his daughter Candida who helped decipher some of her father's words in this new batch of letters.