Olympic rower Anna Watkins may quit to start family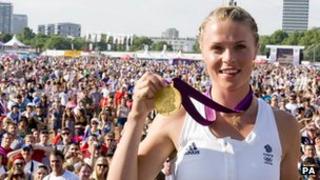 Olympic gold medal winning rower Anna Watkins says she might not race again, in order to start a family.
Watkins, 29, who rows for the Leander Club in Henley-on-Thames, Oxfordshire, won gold in the women's double sculls with team-mate Katherine Grainger.
She told the BBC: "Being in the Olympics is fantastic but there's other wonderful things in life as well."
Watkins got bronze in Beijing and has been rowing for more than 10 years, after starting at Cambridge University.
The athlete from Leek in Staffordshire said it had been a long journey with Grainger, who she started rowing with in 2010.
'All-consuming occupation'
The pair have not lost in 23 races and, as well as their Games victory, they broke the Olympic record by nearly five seconds during the qualifying rounds.
Asked what she would do if she left rowing Watkins said: "Have a family, possibly... a proper life a normal life."
Watkins and Grainger have raced together for three years and are unbeaten as a pair.
"We built a very good working relationship between the two of us and we actually got to the point where, aside from Katherine's story, just what we created meant that we wouldn't settle for anything less than the win," the 29-year-old said.
"So there is an awful lot of relief mixed up with the jubilation."
The rower said after the whirlwind of media interest the best part had been coming home and seeing her family.
On her future in the sport, she said: "I've got to have a big think.
"Everything has been up in the air and I need to get down to earth before I can make any decisions on that scale because people around here [Oxfordshire] know what rowing is like, it's an all-consuming occupation, it takes up every minute of your weekdays and your weekends and so I have to weigh it up against everything else."