Floods 2007: Five years on, has enough been done?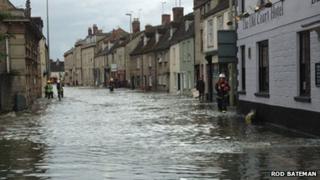 Households across Oxfordshire still bare the scars of the floods of summer 2007.
Five years on from the chaos which swept through the county, opinion is split on how effective the response to minimise future risks has been.
Once the waters, which inundated 1,600 homes across the county receded, the government ordered an in-depth review into how the events was managed.
The Pitt Review outlined 92 recommendations covering flood prediction and warning, prevention, emergency management, resilience and recovery.
Delivering those recommendations continues today. The latest progress report published in January revealed 43 recommendations had been fully implemented while work continued on another 46.
For the Environment Agency, the 22 recommendations on which it has taken a lead have been successfully completed.
As a result, flood forecasts are now more detailed and in-depth, more than one million homes and businesses now receive detailed and early flood warnings by email, phone or text and since 2007, 486 new flood defence schemes have been completed across England and Wales, protecting a further 259,500 homes.
'Cut off completely'
One town where those changes have been warmly welcomed is Witney. About 230 homes in the town bore the brunt of the July 2007 flood.
Since then, West Oxfordshire District Council has secured more than £1m in funding for flood alleviation projects.
David Harvey was among those who dropped everything to help move hundreds of sandbags and drive stranded residents to drier land as the waters continue to rise.
In the years after, the district council's cabinet member for the environment has been instrumental in securing funding for local improvements.
He said: "The day before the floods came, we had 7in (178mm) of rain in a 24-hour period.
"That added to the high volume from previous months and saturated ground meant there was simply nowhere left for the rain to go.
"The flooding was extensive and it all took pace over 24 hours. The speed and scale meant whole villages and hamlets were cut off completely.
"Witney as a town was cut in half. The side of town where the rain fell pretty much determined whether or not you were in the flood's path."
Despite the campaigning and improvements in infrastructure, Mr Harvey admits vigilance is still key.
"The problem is still with us today.
"There's no arguing lots has been done to improve drainage and educate homeowners and businesses of the potential risks, but there's still a huge element we can't predict.
"My guess is that if we had a similar event to 2007 happen today, we'd still be caught out somewhere because there's such a fine dividing line.
"I couldn't predict where that might be, but we have to keep on our toes."
Among those forced from her home by the rising water that summer was Sharon Bustany, from Bablock Hythe.
The 52-year-old's static home on a caravan park was declared uninhabitable for a year after.
Four cars were also declared write-offs in the process.
Today, back in the home she fought so hard to protect, she still fears a repeat of five years ago.
She said: "I keep my waders in the car constantly.
"You can never be too prepared for what might happen and I'm still on guard for the rest of this summer about how much water may come down from upstream.
"I lost 75% on my buildings and contents insurance as a result of 2007. Anything touched by water had to be thrown away.
"My home has also been raised a further 8in (20cm) off the ground to guard against potential surface water flooding in the future."
'A monetary world'
Despite the Pitt Review's progress and the implementation of new legislation aimed at improving responsibility for waterways, Mrs Bustany feels her community has been ignored.
She added: "To me it's like this, if you've got two pints of water and only a pint glass to pour them in, where does the other pint go?
"I'm not happy at all about the response since 2007. There are still plenty of ditches around us which haven't been cleared properly.
"Sadly, we live in a monetary world and if there's a dispute over responsibility, people aren't prepared to pay up if they don't have to.
"Back then the response was really slow to reach us. Because we were just a small caravan park, we were treated as secondary homes.
"Today, little has changed. They haven't spent any of the money which has been raised by the local authorities on our area to make us feel more secure."
'Great strides'
The message from the Environment Agency, just one of the bodies monitoring the ongoing situation, is work should never stop.
Pete Fox, head of strategy and investment for flood risk management, says standing still is not an option.
He said: "The floods of 2007 were an important event. They were a catalyst for a lot of the action we've seen since.
"Some really good things have come out of the Pitt Review, but plenty more needs to happen."
Dr Fox added: "We've made great strides since 2007, but if you stand still with how you monitor rivers, you can end up going backwards.
"Rivers are constantly changing and we have to remain vigilant in order to stay one step ahead."