Memorial stone to mark lost Oxford Jewish cemetery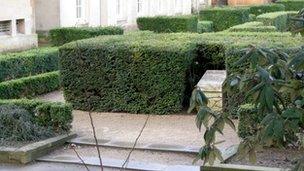 A memorial stone is to be laid at the location of a rediscovered 800-year-old Jewish cemetery in Oxford.
The medieval site is located under the Rose Garden, close to the Oxford Botanic Garden.
Historian Pam Manix found the cemetery's location after searching the archives of Magdalen College, Oxford.
Dr Evie Kemp, from Oxford Jewish Heritage, said: "Their story is little known and pinpointing the location is an important historic breakthrough."
The new stone is 60in (1.5m) by 25in (0.6m) and will be placed between the York stone steps by the Rose Garden.
Dr Kemp added: "The cemetery belonged to the Jews of medieval Oxford, who came from France with William the Conqueror and played a key part in the life of the city and the early development of the university throughout the 12th and 13th centuries.
"In 1231, after their original burial ground was confiscated, the Jews were given a small section of wasteland where the modern-day Rose Garden now stands.
"This was their burial ground until 1290, when all Jews were forcibly expelled from England by King Edward I and not allowed to return for 350 years.
"Forbidden from carrying their dead through the city, the cemetery was linked to the medieval Jewish quarter, now St Aldates, by a footpath along Christchurch Meadow."
The path, which is still in use, is known as Deadman's Walk.
A memorial stone was erected on an incorrect spot nearby by Oxford City Council in 1931.
Related Internet Links
The BBC is not responsible for the content of external sites.