Roger Federer Wimbledon bet could win Oxfam more than £100,000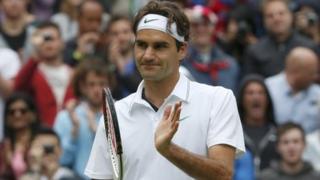 Oxfam could be set to reap more than £100,000 in winnings if a late benefactor's Wimbledon wager comes off.
In 2003 Nick Newlife, from Oxfordshire, put £1,520 on six-time champion Roger Federer winning seven Wimbledon titles by 2019, at odds of 66/1.
He died aged 59 in 2009 but had left the betting slip, potentially worth £101,840, to Oxfam in his will.
Oxfam spokesman said "we will be keeping our fingers firmly crossed for Federer's success".
'Unique wager'
Mr Newlife, from Tackley, had written to bookmakers William Hill with the request for the bet in 2003.
Graham Sharpe, who took the original bet, said the wager was "unique".
"We're not likely to see its like again for some time," he said.
He added that "a number of people have drawn Federer's attention to this bet".
"I don't know whether he's thinking about this hugely philanthropic gesture to Oxfam.
"It's certainly not going to harm his reputation if that's a side project," he said.
Andrew Barton, head of relationship marketing for Oxfam, says: "Legacies amount to 12 per cent of our total income from individuals, so they're essential to us, and as this case proves they can come in all shapes and sizes.
"We wish Roger Federer all the very best for Wimbledon."
Federer had to overcome a back injury and the rain to beat Xavier Malisse in the Wimbledon fourth round on Monday.
The Swiss tennis legend is currently second favourite to win the title behind defending champion Novak Djokovic.