M40 Chilterns Environmental Group wins award to tackle noise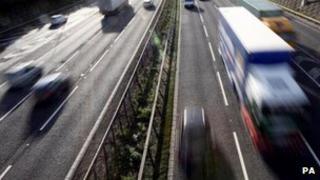 A group of Oxfordshire residents proposing to tackle noise pollution with solar-powered barriers have won a competition to help make it a reality.
The Co-operative and the Centre for Sustainable Energy have awarded the M40 Chilterns Environmental Group and six others £200,000.
Dr Ken Edwards, chair of the group, said: "Now we believe we can begin to tackle this needless noise."
They plan to install the barriers along a 20 mile (32km) stretch of the M40.
Dr Edwards added: "This is a major step on a journey we started eight years ago. Noise pollution from the M40 has affected the lives of local communities since 1990.
"Our proposal stemmed from addressing the question of how to make noise reduction barriers self-financing and we believe that our solution is win, win, win.
"It will improve the quality of life for local communities, will offset installation costs, and benefit the environment."
'Ambitious project'
The group formed in 2004 when neighbouring communities came together to find solutions to the noise heard from the M40 between junction 3 at Loudwater and junction 8 at Wheatley.
Its award includes "specialist mentoring, enterprise development and technical advice".
Paul Monaghan, the Co-operative's head of social goals, said: "Ambitious community-led projects can contribute to a step-change in people's thinking about energy and, inspire others to take action - providing a catalyst for a clean energy revolution across the UK."
Sharing the fund are six other winners.
They are Brendon Energy in Somerset, the Abergwyngregyn Regeneration Company in North Wales, Towards Zero Carbon Bute on the Isle of Bute, on Scotland's west coast, Sustainable Oakenshaw in County Durham, Transition Belper in the Derwent Valley, and Wey Valley Woodfuel in Surrey.