Queen attends Henley-on-Thames Jubilee river pageant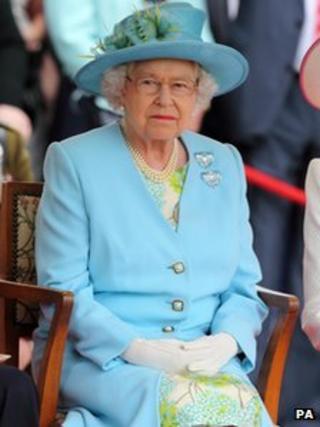 The Queen and the Duke of Edinburgh were joined by about 4,000 guests at a Thames river pageant as Diamond Jubilee celebrations continued.
The event at Henley was organised by the Lord Lieutenants of Oxfordshire, Berkshire and Buckinghamshire where the three counties' borders meet.
Participants included Geoffrey Palmer, Jeremy Irons and Sir Steve Redgrave.
The Queen and Prince Philip arrived at Hambleden Lock, and travelled to Henley Business School to watch the pageant.
'Hauntingly beautiful'
They travelled on a 130-year-old steam launch called Alaska, the oldest working passenger steamer on the Thames.
Its senior skipper, Peter Green, said: "To be acting as the royal barge at a Diamond Jubilee event is something we could never have expected and something that we are immensely proud of."
The organisers said a "significant proportion" of the guests received their tickets via a public ballot.
Avril Lethbridge from Oxford designed the pageant, which tells the tale of the river in 15 minutes.
A range of skiffs, punts and launches that represent various eras of the river, including a Viking longboat, were featured.
Ms Lethbridge added: "It is a very special setting because it's so hauntingly beautiful."
'Was exciting'
Trevor and Alison Bennett from Twyford met the Queen after entering the ballot.
The couple got married six weeks ago, despite their wedding venue burning down shortly before.
When Mr Bennett discovered they had a place to attend the pageant he wrote to the Palace to explain their story and that he thought their luck was on the turn.
Following his letter he received a call asking if they would like to be one of a group of 12 people that got to meet the Queen personally.
After the meeting Mrs Bennett said: "It was exciting. It all went by so quickly - it's weird - I've got to now step back and think about what's just happened."