Eynsham's medieval monks reburied in church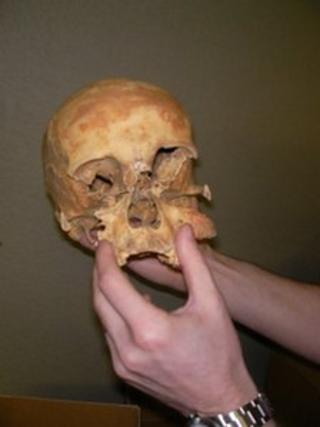 A collection of centuries-old skeletons excavated in Oxfordshire and stored in a museum are to be reburied as part of a "celebration" mass.
The human remains were found during the extension of a church graveyard in Eynsham, leading to excavations between 1989 and 1992.
Father Martin Flatman, of St Peter's Catholic Church, said he was pleased he could give them a "proper burial".
Six bodies are thought to be monks from the medieval Eynsham Abbey.
The remains of two women and a man have been dated to after the Reformation, and are believed to have been secretly buried in the consecrated ground.
The Catholic church was built on the site of the ancient abbey in the 1940s.
'Rib fractures'
Father Flatman said: "Suddenly it dawned on me that I didn't know where the bodies were. I found out they were in the museum's storage and I applied to have them back.
"As a Catholic we honour the dead and we wouldn't want to leave them, particularly those faithful 16th and 17th Century Catholics who faced persecution."
Carol Anderson, service manager at the Oxfordshire Museum, said the remains were "respectfully looked after" until the handover.
She added that post-excavation study of the bones had revealed much about their origins.
"The medieval skeletons were all males and it is assumed that they were monks from Eynsham Abbey," she said.
"The three post-medieval skeletons, two of whom were women, were buried in wooden coffins.
"Investigation of the male skeleton showed that in life he had suffered multiple fractures of his collar bone, arms and ribs, all of which had healed with varying degrees of success.
"The multiple rib fractures were of a type that is usually regarded as being the result of interpersonal violence… otherwise known as brawling."
Dr Bernard Longley, the Archbishop of Birmingham will be in attendance at the requiem mass.
Also present will be the Reverend Morey Andrews of St Leonard's, the nearby Church of England site where the remains were found.