On Form sculpture exhibition opens at Asthall Manor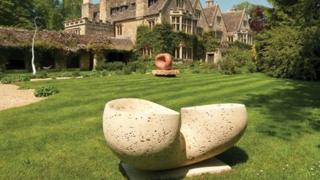 A month-long exhibition of stone sculpture featuring 169 works by 28 different sculptors has opened at a manor in Oxfordshire.
On Form is a bi-annual event which organisers claim is the biggest of its kind in the UK.
Works, from £100 to £30,000, are on display at Asthall Manor, the former home of the Mitford sisters.
Organiser Anna Greenacre said it was an unusual event because the public could touch the objects on display.
She added: "It's not just a buying show. It's very much about encouraging the public to come along and experience art out in the open air."
As well as the works at Asthall Manor, the exhibition has displays in the nearby church and at the Old Swan and Minster Mill in the village of Minster Lovell.
The tallest work in the exhibition is a four metre high piece of Carrara marble called Crack by Julian Rena.